[ad_1]

You never knew what you might find at the Tri-State Antique Market.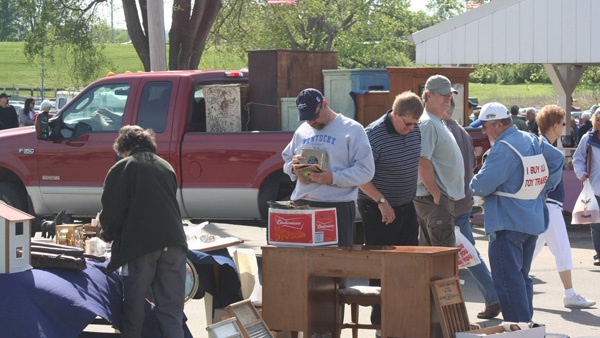 (Lawrenceburg, Ind.) – It was a good year for the Market Treasure Hunt, but all good things must come to an end – this year anyway. The last Tri-State Antique Market of the year will take place on October 2nd at the Lawrenceburg Fairgrounds. In 2022, some positive trends can be observed in the market: newer traders seem to have come out of the woodwork, and the most popular products of the vintage have continued to improve year after year.
Vinyl records and vintage clothing are hot, as are Pyrex and vintage advertising pieces. Antique furniture continues to be a big seller in the market, from mid-century modern pieces to rustic furniture from the 1800s. The seasonal change to fall also brings a different atmosphere to the Market as we collectively turn our thoughts to the cooler weather and holiday preparations, and market vendors respond to the occasion with vintage holiday decorations and furnishings. Cozy quilts, vintage Star Wars Halloween costumes, blanket chests, costume accessories, vintage sweaters, retro kitchenware and more are available to help you face the changing seasons with style and courage.
The Lawrenceburg Fairgrounds is conveniently located in southeast Indiana, approximately one mile west of exit 16 on I-275. The 5-acre fairgrounds are minutes from the Ohio and Kentucky borders and are filled with quaint country charm and modern amenities such as wheelchair-accessible, shaded rest areas and a variety of food vendors.
Tri-State Antique Market hours are 7:00 a.m. to 3:00 p.m. "Earlybird" customers will be admitted during vendor set-up at 6am. $4.00 admission (ages 17+) is a surcharge at all times. Pets and children are welcome. More than half of the market's vendors will be present indoors or under cover, so the event will be "rain or shine".
Complete Tri-State Antique Market information, including directions, area accommodations and photos of past market finds, is available at www.lawrenceburgantiqueshow.com and on the Facebook page under Tri-State Antique Market or contact Aaron Metzger promoter at (513)702. -2680 or [email protected].
[ad_2]

Source link