[ad_1]

The show, curated in partnership with HeavyShield, will be the first solo exhibition of his work in Saskatchewan.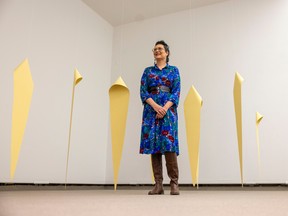 Essay Content
Installation crews have been hard at work at the Mackenzie Art Gallery this week, putting together a new retrospective installation on contemporary Aboriginal artist Faye Heavishield which opens on Friday.
Essay Content
For curatorial colleague Felicia Gay, who created the installation, it's an exciting culmination of several years of work that led to the show's conception.
Essay Content
"There's a lot of integrity to what he does, which says a lot. He really influenced so many generations of indigenous artists, both men and women," Gay said in an interview Thursday.
"It was about the kind of work he was doing, it was situated in a particular Aboriginal worldview, and he was so strong about it from the get-go."
Gay is working with Heavishield to make it a success and says he is driven by their personal friendship and shared heritage.
"I wanted it to be more collaborative, and we're doing it together," he said. "I wanted Faye to feel empowered, to have her voice really central to the curation."
Essay Content
The result is a highly personal final exhibition for women, and hopefully gays, for those who visit the gallery.
Mackenzie Art Gallery opens show exploring "myths and meanings" of whiteness

Landmark collection of Aboriginal beads opens at Mackenzie Art
Entitled The Art of Faye HeavyShield, the collection includes sculptures and installation works across a range of media types, and a documentary about HeavyShield's creative process made for the occasion.
There will also be an accompanying print publication in English, French and Blackfoot, exploring Heavishield's place in contemporary art circles.
Gay says there is particular excitement about it as a valuable addition to the world of art history for the future.
Essay Content
"When you look for works written about Faye, it's very rare (and so) it's going to be so great for our art history students, how she influenced and mentored so many."
Heavyshield has been a profoundly influential figure in contemporary art since his career began thirty years ago. As a Northern Plains artist, Heavishield is often described as a "cultural matriarch", known for an abstract style rooted in her experience as a Blackfoot woman from the Kainai region of southern Alberta.
"I was trying to curate in a way that followed my Swampy Cree worldview, and because Faye's work is so embedded in her Blackfoot culture, she was just a perfect (choice)," Gay said.
What makes his work special, says Gay, is how each piece captures a part of Heavyshield, his experiences and his region.
Essay Content
"We have a deep-rooted connection to the land, to the environment," Gay said. "His language, his Blackfoot territory, the waters in his territory like the Bailey River, The Old Man — all of those things are incorporated, (and) kinship and his family are a huge part of his practice."
The complexity of that connection is what sets Heavishield apart from his contemporaries, Gay adds, as an artist who maintains the fluidity of storytelling in indigenous genres.
Time in Aboriginal culture is not linear and stories exist in the past, present and future, Gay explained. In his view, Aboriginal artwork is about telling a visual story, creating an interaction between the viewer and the artist.
"I want people to understand how beautifully complex and intricate and healing our stories are, and I would say Faye's work, for me, is probably the most successful in relaying that," she said.
Essay Content
"He wants you to come see his works, because they're present (and) poetic and concise — and you can't tell from the pictures, but when you're in a room with his work, it's like you feel this presence."
The Art of Faye Heavishield will be the first solo exhibition of Heavishield's work presented in Saskatchewan. Gay said the reaction many had after the event was announced: "It's about time."
"People have been waiting for it, and I feel like Faye really deserves that recognition," Gay said.
The retrospective opens with a reception event on October 28 and will be on display until February 19, after which it will travel to Winnipeg.
News seems to be flying at us fast all the time. With updates on everything from COVID-19 to politics and crime and everything in between, it can be hard to keep up. With that in mind, Regina has created a leader-post Headline of the afternoon Newsletters that can be delivered to your inbox daily help ensure you're up to date with the most important news of the day. Click here to subscribe.
[ad_2]

Source link