[ad_1]

Award-winning singer-songwriter Missy Knott from Curve Lake First Nation and Cobourg-based poet, writer and interdisciplinary artist Meredith K. Hoogendam (KT/Merkat) Art Gallery of Northumberland will be on display Thursday, November 17 as part of the gallery's Spotlight Series 4 annual art education fundraiser.
This is the second installment of the Fourth Spotlight series, which combines music, multimedia, poetry, performance and visual art. The series returns in June as a private event featuring Port Hope musician and award-winning author Ted Staunton and Quintet Symphony concertmaster and touring violinist, fiddler and composer David Shuychuk.
"The return of the Spotlight Series at a private event in June was such a success and everyone who attended could feel a real enthusiasm in the room," said Olinda Casimiro, executive director of the Art Gallery of Northumberland, in a media release. "The Art Gallery of Northumberland is excited to welcome our fall installment with two very talented performers."
Advertisement – Story continues below
Missy Knott (Singing Wild Rice Girl) is an award-winning singer-songwriter known for her rich voice and blend of country, pop and folk, whose 2021 single "Our Song Acoustic" debuted at #3 on the Aboriginal Music Countdown on SiriusXM. . She is a mother, business owner, educational assistant and active member of Curve Lake First Nation. In 2018, Knott founded his Wild Rice Records label in Nogojiwanong-Peterborough and then took a job as an afternoon drive and weekend live radio personality at ELMNT FM in Ottawa and Toronto.
Meredith K. Hoogendam (KT/Merkat) is a published poet, writer and interdisciplinary artist based in Coburg. He was a high school teacher and local community radio host and producer. She holds a BA in English, Communication and Education and an MA in English and Film Studies. Folklore, feminism, archetypes, and the natural world inform her work, which has appeared in publications across the United States and Canada, including Room Magazine, Geez Magazine, Mutha and Catapult, and more.
At the Spotlight Series 4 event on November 17, both Knott and Huzendam will transform a one-hour 'blank slate' into a unique presentation of their stories, passions and processes. There will be a break between performers and an interactive question-and-answer session with the audience at the end.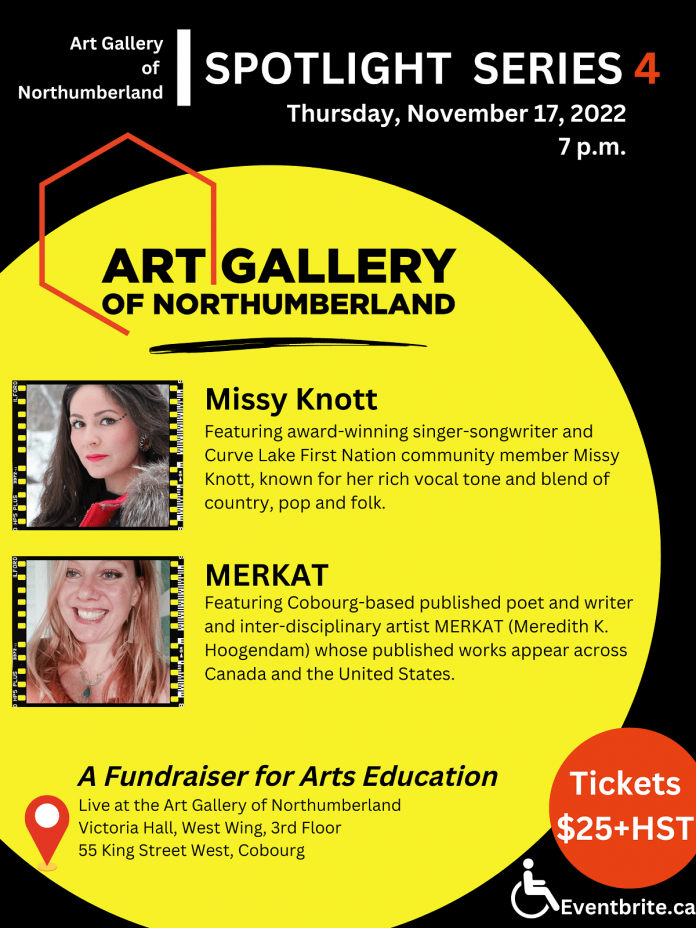 Tickets are $25 (including HST) and are available now at eventbrite.ca/e/448728277357. All funds raised from the event will go toward specialized art education community programming for children, adults and seniors.
Light catering and refreshments will be included. Organizers say health and safety precautions will be in place and ask those who are not feeling well to stay home.
The Art Gallery of Northumberland is located on the third floor of Victoria Hall at 55 King Street West in Coburg.
[ad_2]

Source link